While our response to COVID-19 has changed the way we are doing things, our services to West Virginia families continue. All interactions with staff are done remotely via phone, email, or video conferencing. In person trainings are being revised and will be offered remotely. Library loans are currently suspended until April 30, however you can still request items and be put on our waiting list. Sanitation policies are being revised and all items will be properly cleaned and made available at a later date.
You can email or call us during regular business hours Monday-Friday.
Phone: 304-293-4692 Option #5
Email: F2FHIC@hsc.wvu.edu
Parents As Faculty
Parents as Faculty in WVU's Family Experience/Project DOCC Simulation Join a team of family members who teach medical students about the issues involved in caring long term for a child with special health care needs. Through the WVU STEPS Simulation Center, students would be able to interview you and learn first-hand the impact chronic illness has on family life. Simulations are only 2 hours long and we provide training so that you are comfortable and confident in your role. If you are interested in learning more, contact the F2F Health Information Center.
F2F Advisory Board
Serve as a member of our Family to Family Advisory Board as we meet quarterly to discuss the implementation of our Program and the gaps families are still experiencing within medical and educational systems across our state.
Parent Panel Presentation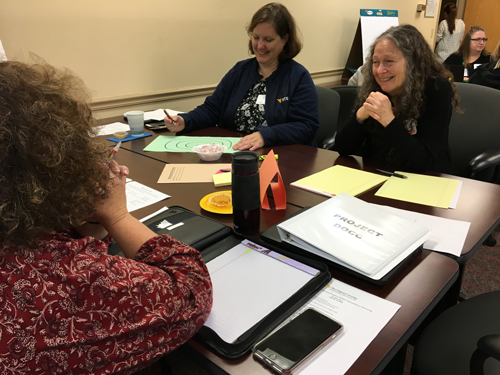 Once or twice a year we are in need of parent volunteers to share their personal experiences through a Parent Panel Presentation. Medical students and professionals want to learn from your challenges and hear about your progress. Volunteer to serve on this Parent Panel during the WVU Hospital's Grand Rounds. We will provide you with the necessary training prior to the presentation so that you feel confident and prepared to tell your story.
If you are interested in learning more about these leadership opportunities, contact the F2F Health Information Center by calling 304-205-6434 or by emailing F2FHIC@hsc.wvu.edu
Families and physicians work together to develop training simulations
Family-centered care is a cornerstone of the CED and its programs. Understanding each family's unique needs and experiences is important for health professionals. The CED's Family to Family program is working with WVU Medicine faculty and physicians to develop the WVU Family Experience/Project DOCC (Delivery of Chronic Care) simulation launching in the spring of 2019. The STEPS Center simulation experience for Inter-Professional Education (IPE) teams made up of residents, medical, pharmacy and nursing students was created by parents of children with special health care needs working side-by-side with faculty to impact the way they deliver patient care and compare a families experience with the principles of a patient centered care as outlined by the American Academy of Pediatrics.