While our response to COVID-19 has changed the way we are doing things, our services to West Virginia families continue. All interactions with staff are done remotely via phone, email, or video conferencing. In person trainings are being revised and will be offered remotely. Library loans are currently suspended until April 30, however you can still request items and be put on our waiting list. Sanitation policies are being revised and all items will be properly cleaned and made available at a later date.
You can email or call us during regular business hours Monday-Friday.
Phone: 304-293-4692 Option #5
Email: F2FHIC@hsc.wvu.edu
Medical Pathway
This guide was created by Parent Network Specialists, who are West Virginia parents with experience navigating the systems of care for their own children with special health care needs.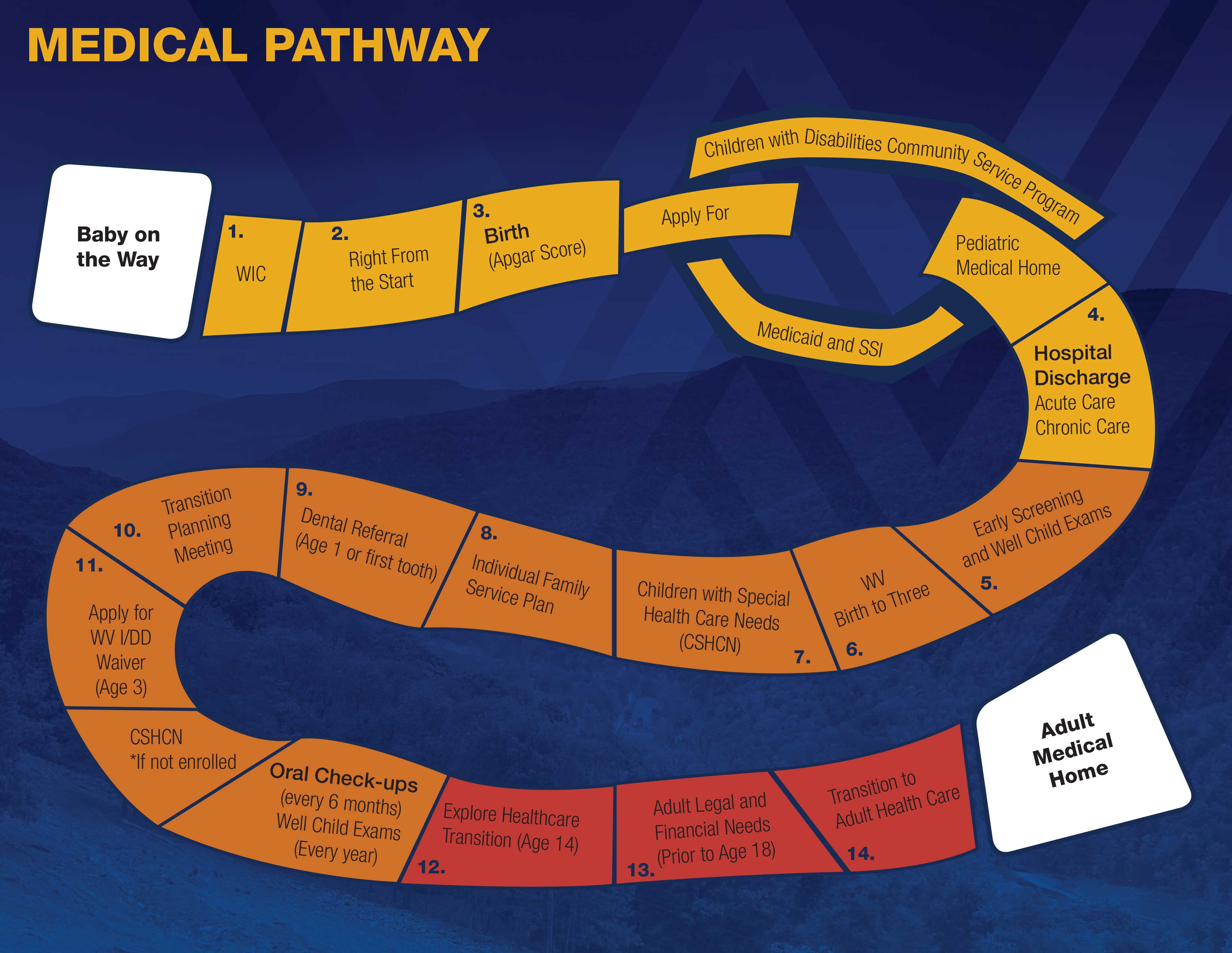 Just as each child is unique, each family's journey through the medical and educational system is different. In this guide, we try to give a general idea of what parents can expect.
Click below to learn more about each program along the journey.
Baby on the Way
3. Birth (Apgar Score)
Apply For:

Children with Disabilities Community Service Program
Medicaid and SSI

Pediatric Medical Home
11. Apply for WV I/DD Waiver (Age 3)
CSHCN *if not enrolled
Oral Check-ups (every 6 months) Well Child Exams (Every Year)
Adult Medical Home
1. Women, Infants, and Children (WIC) program
Provides nutrition counseling and education, breastfeeding support, health screening, medical and social service referrals, and food packages for pregnant, breastfeeding and non-breastfeeding postpartum women, infants and children up to age five.
2. Right From the Start
Helps mothers and their babies lead healthier lives by offering home visitation services with a designated care coordinator. Provides pregnancy medical coverage if eligible.
3. Birth- Apgar score
Apgar is a test performed on a baby at one and five minutes after birth. The one-minute score determines how well the baby tolerated the birthing process. The five minute score indicates how well the baby is doing outside the mother's womb.
Medicaid
Medicaid is a health care program that assists low income families/individuals in paying for medical and custodial care costs. Apply through WV Department of Health and Human Resources (WV DHHR).
Supplemental Security Income (SSI)
May provide benefits to low-income people with a disability. Apply early through Social Security.
Children with Disabilities Community Service Program (CDCSP)
Provides Medicaid benefits to children with severe disabilities who do not meet Medicaid's financial eligibility requirements but require the level of care provided in a medical institution.
Pediatric Medical Home
Your pediatric primary care physician (PCP) is a doctor that leads the pediatric medical home and handles your child's overall health. Your PCP will refer you to specialty physicians if needed. Your pediatric medical home will consist of any person who has responsibility for your child's health care needs.
4. Discharge from hospital: Acute care
An acute illness or injury is a medical problem that comes on quickly but is treatable and will eventually go away. A baby with this type of diagnosis may require monitoring following discharge.
Discharge from hospital: Chronic care (not acute)
The term chronic is applied when the course of the disease lasts for more than three months. A baby with this type of diagnosis may be referred to a specialist(s) and will require on-going care.
5. Early and Periodic Screening, Diagnostic and Treatment (EPSDT) and annual well child exams
Federal regulations state that children under age 21 who receive Medicaid are entitled to EPSDT benefits that cover preventive and treatment services. Pediatricians recommend infants be seen at two weeks of age, followed by approximately 10 other pediatric visits until the age of three. It is recommended that children be seen yearly after age three.
6. WV Birth to Three
Provides early intervention services to children age three and under who exhibit a developmental, physical, cognitive or social delay, or may be at risk of delays.
7. Children with Special Health Care Needs (CSHCN) program
The CSHCN program provides assistance and care coordination to families who have children with illnesses that need special care from age birth to 21 years. Apply at WV DHHR.
8. Individual Family Service Plan (IFSP)
A plan developed by a team of interventionists and the child's family for special services to young children with developmental delays. An IFSP only applies to children from birth to three years of age. Once a child turns three years old, an Individualized Education Program (IEP) is put into place if special education services are deemed necessary.
9. Dental Referral (Age 1 or first tooth)
The American Academy of Pediatric Dentistry recommends that a child be examined by a dentist at age one or within six months after the first tooth appears. Regular visits should continue every six months into adulthood.
10. Transition planning meeting
All children who receive Birth to Three (BTT) services are referred to their local school district to be evaluated for special education services. If you choose, your BTT service coordinator will schedule a transition planning meeting at your child's home school at least 90 days prior to your child's third birthday. Service and educational needs are discussed and evaluations will begin. Based upon evaluation results, your child may be eligible for special education services, the development of an Individualized Education Plan (IEP) and your child may begin pre-school.
11. Apply for Intellectual/Developmental Disabilities (I/DD) Waiver - age 3
Your child may be eligible for medical and financial services. Apply early through WV DHHR, as the determination process and waiting list is long.
12. Explore health care transition-age 14
Begin considering transfer of your child's health care from pediatrics to adult care. Begin researching and receiving recommendations of adult physicians and specialists to care for your child. Children should begin taking an active role in their medical services at this age.
13. Adult legal and financial needs (Prior to age 18)
An application for SSI should be made. In the SSI program, a child becomes an adult at age 18 and different rules apply when determining eligibility for adults. Contact Social Security to learn more.
You may also need to address legal issues related to adulthood based on your child's ability to make his/her own decisions and give consent. There are many options to consider when seeking to provide help to your child in decision-making. Attorney assistance may be needed.
14. Transition to adult health care services
Adult primary care physicians and specialists will begin caring for your child. Health providers and parents should support and encourage young adults as they take a more active role in their own healthcare.